The Banker's Code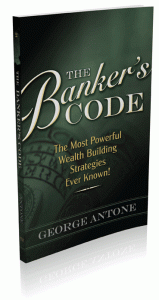 The Banker's Code is the story of a brilliant scientist and thinker who shares with the author – and with you – incredible financial secrets passed down through generations. It's a story that chronicles the most powerful wealth-building strategies known to man, lessons that are the basis of banking.
You'll be introduced to a whole new way of building wealth that some of the wealthiest families in the world have used, and are still using. Be the banker!
FROM AUTHOR:
When I wrote my first book The Wealthy Code, I knew I had so much to share with the world. I couldn't write this book until I shared the core principles that affected all passive income investments in the first book. This book continues where my first book left off, and talks about a specific investment vehicle. I'm a numbers person, and the more I invested and understood various investment vehicles, the more my eyes were opened to why bankers are the richest people in the world. I decided to share this with the world.
Buy The Banker's Code on Amazon.com >>
Review
"Wow! What a great book! Mr. Antone has explained the very complex financial concepts in use every day in the banking world in a way that we can all put to use in our own quest for wealth." Henry Dvorken. An expert and one of the giants of the real estate note business
"Great Book! Easily read and understood. In this book you ll discover the world s most powerful time tested investment model neatly wrapped inside a touching story. I ve used these proven strategies to create great returns for more than 20 years." Mike Sanderson Private Lender
"The Banker's Code provides unparalleled insights in regards to money and finances which creates an amazing formula for building wealth." Willie Hooks Million Dollar Coaching
Book Details
Paperback: 208 pages
Publisher: Wealth Classes (June 19, 2012)
Format: Paperback & Kindle
Language: English
ISBN-10: 0982704518
ISBN-13: 978-0982704516
Product Dimensions: 9.3 x 6.4 x 1 inches