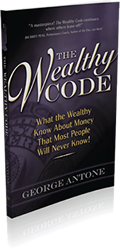 The Wealthy Code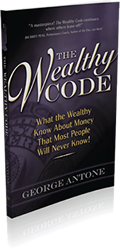 The Wealthy Code book is about a story of how a very wealthy man shared with the author the practical secrets to becoming wealthy. The story reveals the code the wealthy use and unveils the details of the code.
It allows readers to understand wealth, to build wealth, and ultimately, to become wealthy. This simple, easy-to-understand book walks the reader through advanced and powerful concepts that can help you become wealthy.
FROM AUTHOR:
Many years ago, I was inspired by the book Rich Dad Poor Dad by Roberty Kiyosaki. I read the book when it first came out. That book changed the way many people think about wealth. So I wrote my first book The Wealthy Code to really continue where Rich Dad Poor Dad left off. At that point in time, I had learned so much from mentors, mistakes and successes. There was an underlying core principles that affected all investments, that completely took me to the next level. I wanted to share these with the world. Out of that came The Wealthy Code.
I'm very honored to have had many advanced investors, real estate professionals and beginner investors tell me that this book was a turning point in their lives.
Buy The Wealthy Code on Amazon.com >>
REVIEWS:
"A masterpiece! The Wealthy Code continues where the others leave off!"
Jim Britt, Peak Performance Coach, Author of Do This. Get Rich!
"I have read hundreds of books on becoming wealthy. This tops them all. Brilliant!"
Willie Hooks, CEO of Million Dollar Coaching
"Absolutely amazing! I use the same secrets to generate double-digit returns for my investors. Now the secret is out!" John Taylor, CEO & Investment Manager, NorCal Capital Management
Book Details
Paperback: 176 pages
Publisher: Wealth Classes Publishing (October 26, 2010)
Format: Paperback
Language: English
ISBN-10: 098270450X
ISBN-13: 978-0982704509
Product Dimensions: 9 x 6.1 x 0.4 inches